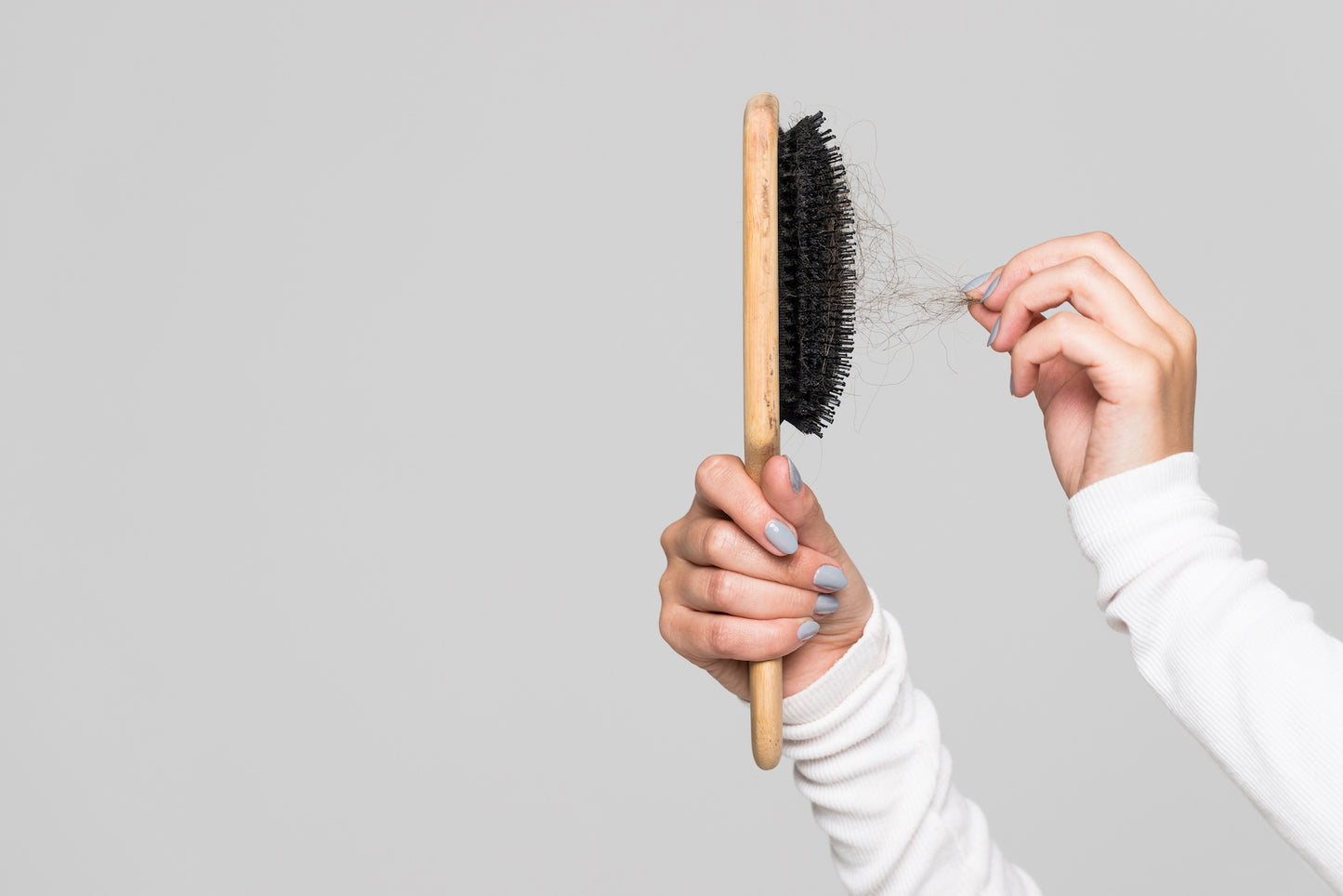 Have you heard about scalp serum? When hair starts to look drab, it can be a sign that it's time to reevaluate your hair care routine. 
Don't worry—the good news is drastic change isn't necessary. Transforming dry, damaged hair into soft, super shiny locks can be easy as adding a scalp serum to your routine. Meet Atmosphere Hair Density & Scalp Serum. As a streamlined anhydrous (waterless) formulation, it nourishes the scalp while improving hydration and barrier strength as you go about your day.   
Think of it like this: haircare is more than cleansing and conditioning the hair. The root of hair health is your scalp. Atmosphere works like a serum for the scalp; it cleanses impurities and build-up while infusing the scalp with a concentrated blend of plant-based adaptogens. With a quick AM application using the Stalactite Scalp Massage Tool, it's a beautiful moment of self-care that works to rebalance the scalp leaving it soft, supple and nourished—the conditions where hair grows healthy and stays put.
Like all our products, we created Atmosphere from a blend of pure plant-based ingredients inspired by Chinese and Ayurvedic traditions. We believe what goes into our formulas is as important as what doesn't —no silicones, parabens, petrolatum, mineral oil, paraffin, or gluten. Formulated with tri-peptides and scalp-health modulating adaptogens like He Shou Wu, Skullcap, Angelica and Gotu Kola, Atmosphere leaves hair light and greaseless while infusing it with moisture, softness, and shine.
As part of our trend towards pioneering streamlined beauty formulations, Atmosphere scalp serum is easy to use and works to restore all hair types and textures to a healthier state. Just apply to clean, dry hair in the AM. For optimal results, we recommend:
Straight hair – 3 drops
Wavy hair – 5 drops
Curly hair – 7 drops
Coily hair – 10 drops
Massage Atmosphere into your scalp and hair using your fingers or a scalp massager. Don't rinse—let it work its scalp-modulating magic with ingredients that thicken, restore, and rejuvenate tired, lacklustre locks. 
Get hair back to healthy with sustainable, adaptogen-infused haircare that's good for your scalp and good for the environment. Clinically tested and trichologist-approved Atmosphere Hair Density & Scalp Serum is cruelty-free, all-natural care that's setting a new beauty standard.