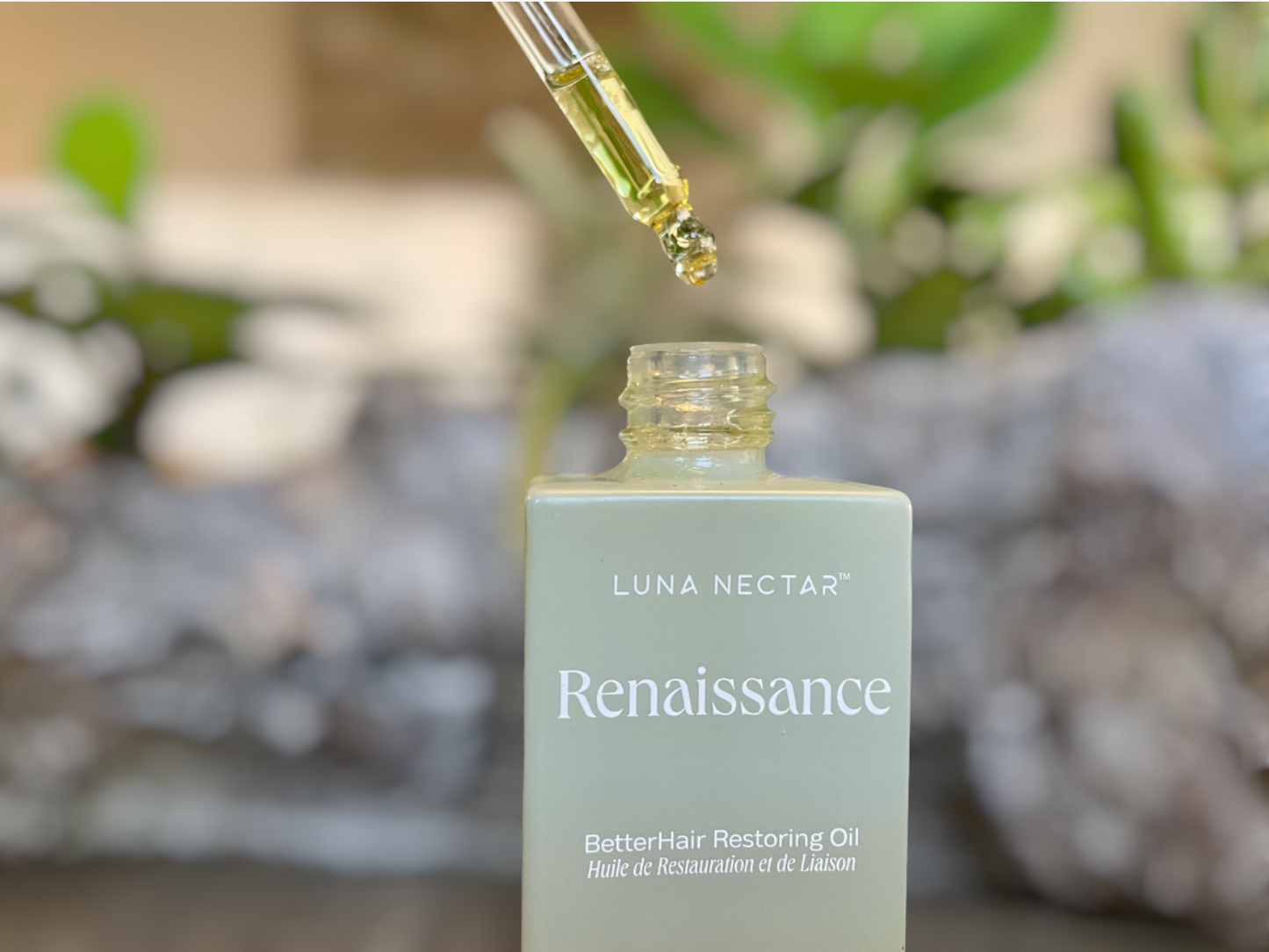 The First Ever Fully Adaptogenic Hair Oil
Hair oiling belongs to millennia-old beauty rituals. In India, the art is part of a long history of Ayurvedic practices that rely on adaptogenic plant-based ingredients to enhance the function and beauty of the human body, bringing it back into balance.
As Indian hair has become more widely regarded for its fullness and length, many beauticians and experts have pointed to the ancient art of hair oiling as the not-so-secret secret. The practice of pressing luxurious plant-based oils into the hair and scalp replenishes with superfood-infused hydration, resulting in hair that's lush, visibly shiny and packed with hydration, yet fluffy and buoyant. 
Traditional hair oil relied on plants native to the Indian sub-continent—coconut, oil, and sesame, all rich in fatty acids and wonderfully nourishing. However, they don't work for all hair types. Anything but robust and thick hair may be shellacked to your scalp for days, even after several vigorous shampoos. Reimagining the art of hair oiling became the inspiration for a new hair oil infused with plant-based ingredients that would re-balance the scalp and hair to deliver hydration and shine and wash away easily.
To create the world's first-ever fully adaptogenic hair oil, we formulated Renaissance BetterHair Restoring Oil from seven power oils—bhringraj, amla, sesame seed, shikakai, jojoba, neem, and lavender. Ingredients work synergistically. For example, bhringraj and amla wake up the roots, assisting with circulation to promote optimal hair wellness. Shikakai removes greasiness, so hair isn't weighed down. Neem reduces dandruff and buffers against environmental factors while jojoba delivers softness and shine. 
True to our sustainable roots, we formulated Renaissance BetterHair Restoring Oil without silicones, sulfates, parabens, gluten, mineral oil, or petrolatum. Our products are cruelty-free—Leaping Bunny certified and formulated waterlessly to preserve resources and improve ingredient potency. Even packaging is cradle-to-cradle, certified by SFI (Sustainable Forestry Initiative). 
Renaissance BetterHair Restoring Oil launched in November 2022. One month later, it was named Best New Hair Oil by TZR (The Zoe Report). As a multi-functional hair oil that's 100% naturally derived. Renaissance BetterHair Restoring Oil can be used as a pre-wash, hydrating scalp massage, or overnight treatment. 
For the Full Indian Hair Oil Experience:  
place a small quantity of hair oil in a bowl over a saucepan of hot water—it should be warm, never hot
Start at the ends, pressing it into the hair and massage it into the scalp
Leave in overnight—or wash out immediately using a bit more shampoo to focus on the scalp
Dry and style as usual
Based on Customer Testing* 
95% said they would recommend it to a friend
95% said they noticed a difference in the look and feel of restoration of hair shine
100% said they noticed a difference in the look and feel in the softness of the hair
95% said they noticed a difference in the hydration of scalp after use
 Unlock the secret to soft, shiny hair with a luxurious product that puts a modern spin on the ancient art of hair oiling. All products are clinically tested, dermatologist and trichologist-approved. As a sustainable team, we at Luna Nectar strive to continue making beauty a guilt-free industry through innovative approaches and formulations for the hair and skin where there is no waste, no shortage and no limitations. 
* Sample size 20 participants