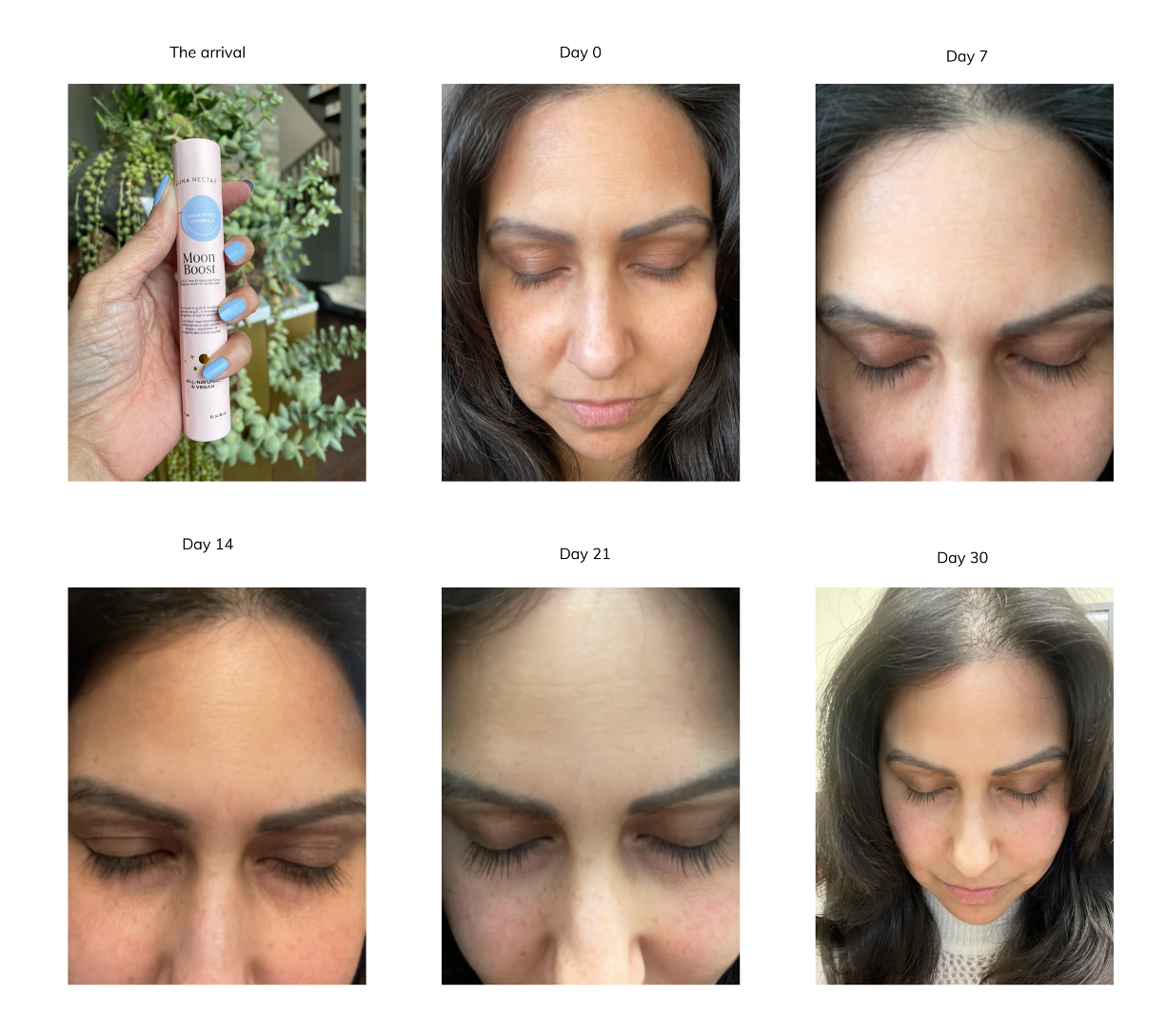 As a copywriter and owner of Jooska, I provide creative services to many Vancouver businesses in the sustainability sector. Last fall, I began collaborating with a new client. Luna Nectar is a Canadian-based team that creates sustainable hair and skincare. With mostly anhydrous (waterless) formulas to conserve resources, they're spreading globally with products backed with enough glowing reviews to leave even the biggest skeptic starry-eyed.

Their flagship product Moon Boost Eyebrow and Lash Serum is a multi-award winner. Since I began collaborating with the team, it's been mentioned twice by Vogue and named best Vegan Lash Serum of 2023 by The Independent. About a month back, Founder Mia Fiona Kut asked if I would chronicle a 30-day journey using their sustainably made, plant-based lash serum.

Colour me intrigued. I'd already been writing for Luna Nectar for several months. I knew the products harnessed plant-based adaptogens to balance the body, in addition to being clinically tested, 100% vegan, and animal friendly. I was even more curious because I used a hormone-based lash serum some years ago.
It worked—my lashes grew. However, this was accompanied by increased fuzziness around the eye and persistent discomfort—a sort of weird pressure on the eyeballs that eventually became enough to dissuade use. For me, there's always been an acceptable benefit vs pain-to-risk threshold when it comes to beauty. My line had been crossed. Potentially jeopardizing my sight for the sake of vanity seemed a bit silly.

Moreover, as a Canadian of Indian descent, I've always had pretty good hair, and the same is true for my lashes. However, when I hit forty, I started to see the changes—sparseness, a loss of volume, a bit of thinning around the edges. As someone prone to hay fever and fits of eye-rubbing, it was becoming more common to see a lash or two shed onto my hands.

Day 0:

I began my journey by chronicling the arrival of my little tube, about 3 months' worth of product, wrapped in packaging approved by the Forest Stewardship Council. I took a day-zero picture and used the applicator to swipe the serum across my top lashes before bed. You can apply Moon Boost to both your top and bottom lashes because, unlike hormone-based serums, it won't trigger weird hair growth if it comes into contact with the skin around the eye. There was no burning, itching, or heaviness. All in all, a solid start.

Day 7:

I forgot to apply my lash serum on day 3, but it was time for another picture. My lashes looked noticeably darker. As a volumizing formula, Moon Boost is enriched with algae, argan, and gotu kola. It's a waterless formula, which adds to the potency. There are many other natural actives, too—horsetail for strength and for hydration—castor, a well-known adaptogen used in Ayurvedic tradition to stimulate the growth and beauty of hair and lashes.

Day 14:

This is where I really started to notice the results—my lashes looked thicker, and slightly longer. Happy with the effects, I started applying Moon Boost to the brows I'd dramatically thinned out some thirty years earlier in a misguided attempt to look more like nineties supermodel Kate Moss. Take my hard-learned advice—skip the thin-brow trend.
Day 21:
More length is apparent. My lashes also feel more soft and fluttery and seem to be fanning out. In a hurry to get through my nighttime routine, I got careless with a heavy application, so some formula dribbled into my eye. It wasn't tears level natural, but there was no burning, itching, and minimal discomfort. I dabbed away the excess and was fine.
Day 30:
My eyelash journal has reached its conclusion. Overall, my lashes have achieved a lovely length and more volume. They really pop with a slight mascara application, which is excellent for someone who doesn't wear too much makeup. I've noticed less shedding and breakage. Remarkably, my eyes also seem a bit calmer this allergy season. This could be attributed to the adaptogen-rich formula, which increases resistance to stress and sensitivity to stressors. The benefits of adaptogens are wide-reaching but non-specific, and the science around these plants and roots is still in progress.
Overall, I consider the journey a success, and I am happy to continue using Moon Boost Eyebrow and Lash Enhancing Serum as a natural boost for my lashes—and self-confidence.