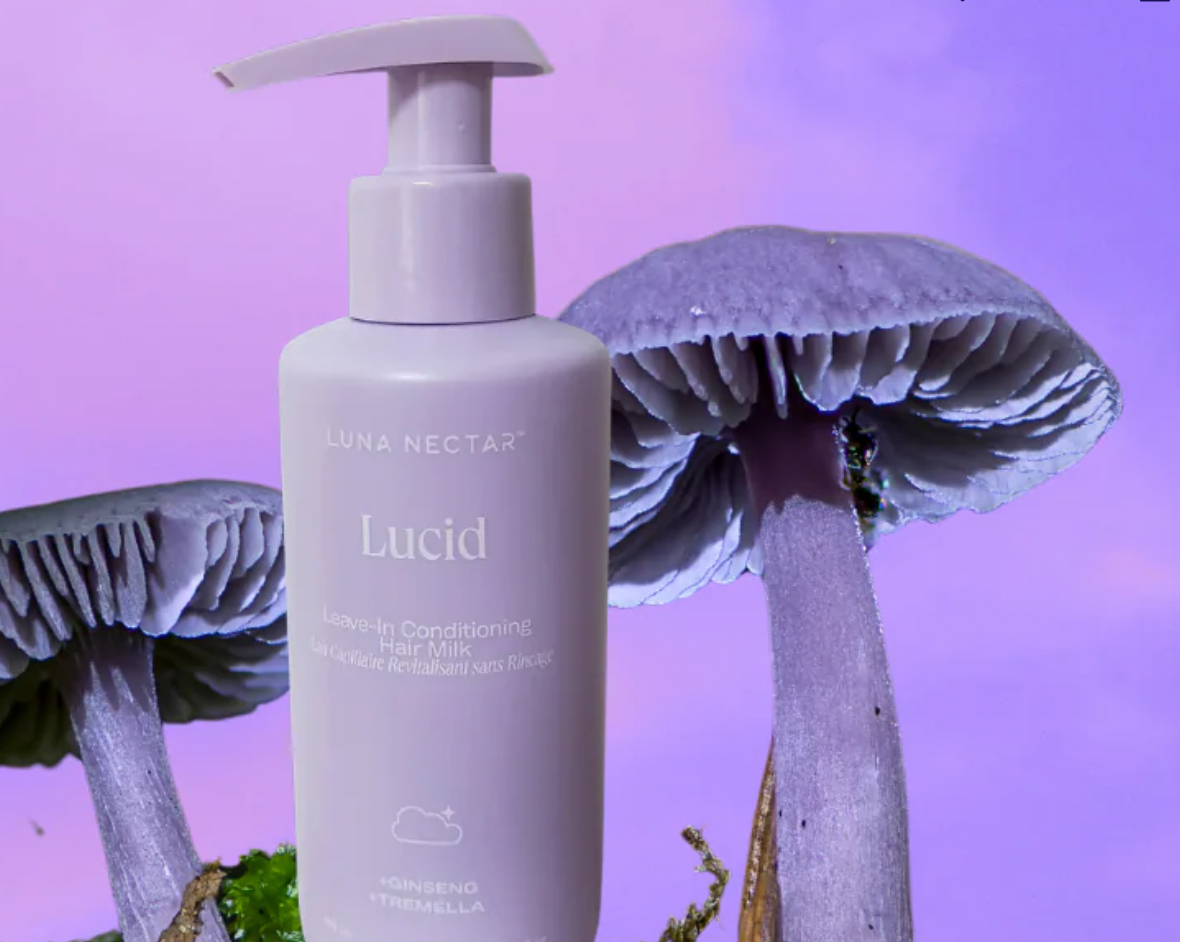 Ready to add a super-charged leave-in conditioner to your haircare arsenal? Tremella, also known as the snow mushroom, is taking the industry by storm—and it's the star ingredient in our brand-new Lucid Leave-in Conditioning Hair Milk.
In its native tropical and sub-tropical habitats, the fairytale-like fungus looks almost coral-like, with delicate gelatinous petals of a translucent silvery-white—however, tremella's reputation as the beauty mushroom stem from its effects rather than its appearance.
As a powerful adaptogen, we sourced tremella as an ingredient used in Asian medicine and beauty for centuries. It is rich in protein, ceramides, carotenoids, resveratrol, carbohydrates, dietary fibre, vitamin D, zinc, calcium and folate. The gelatinous structure of the mushroom also contains high amounts of polysaccharides, which draw and lock hydration into the skin and scalp.
Tremella mushroom holds 500x its weight in moisture, so it's already being touted as a natural alternative to hyaluronic acid, an atom that can hold up to 1000 times its own weight in water. Hyaluronic Acid is THE powerhouse ingredient in many costly skincare formulations, making the discovery of tremella highly significant. It has already gained bragging rights as an ingredient that builds up the skin's moisture barrier, prevents water loss, and intensely hydrates—but we saw even more potential.
Tremella is now the feature ingredient in Lucid—our new leave-in conditioner. Not only does tremella draw moisture into the hair and scalp, but it also coats individual hairs with a silicone-like substance that locks in moisture to reduce frizz, leaving strands smooth with a touch-worthy, silky feel. It's why silicone is used in many conventional haircare formulations. However, unlike silicone, there is no product build-up, which can eventually leave your 'do looking lank and greasy.
We were also excited by tremella's exceptionally potent anti-inflammatory properties, which work to soothe and balance the scalp. As a team working to understand and combat female hair loss, chronic scalp inflammation is a leading cause. Although many factors can contribute to inflammation, the outcome is the same--follicular miniaturization, a shrinking of the follicles that leads to thin, colourless strands, followed by hair loss.
As the super-star humectant in our new leave-in conditioner, we combined tremella with other potent natural actives like baobab, aloe, and pea protein to improve the youthfulness and overall health of your hair and scalp.
Tremella is another clinically-proven, natural ingredient we're using to replace traditional synthetic, chemical-based beauty formulas for results that are safer on our bodies—and gentler on the planet. It's dermatologist-tested, trichologist-approved, and packed with antioxidants that give your hair more than TLC--this dreamy leave-in conditioner works all day to protect and improve the integrity of your hair and scalp for silky, tossable tresses with a radiant sheen.
We hope you'll love it.