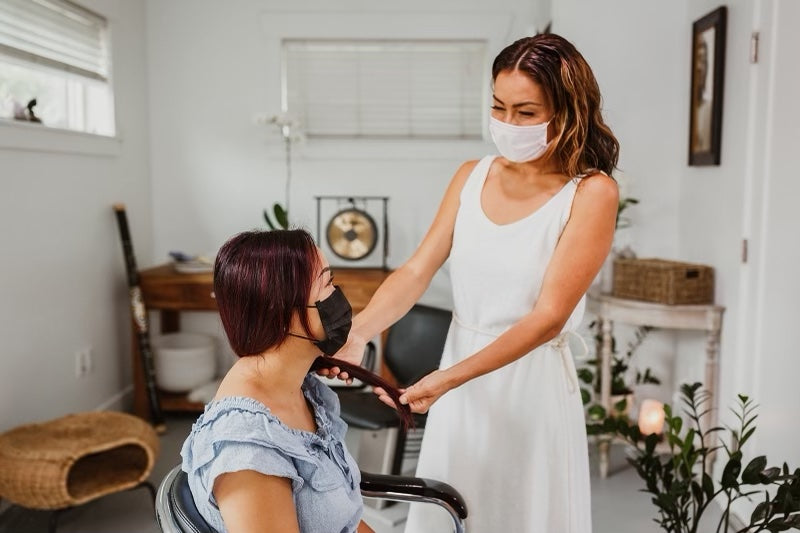 We sat down with Vancouver stylist and certified trichologist Yuko Turnbull. Yuko is a prestige stylist who has specialized in hair care in Vancouver for over 15 years. Her experience included a tenure at Vancouver's prestigious Suki's Salon before she launched  holisticyuko.com. 
"Hair is a big part of our identities as women," explains Yuko. "Many women strongly identify hair as what makes us feminine and beautiful. For some clients, the effects of hair loss can be so upsetting that we cut and style facing away from the mirror."
A variety of factors can lead to hair loss, explains Yuko. "Only about 45% of women will go through life with a full head of hair. It can be caused by hormones—fluctuations during pregnancy and post-partum, nutrition, illness, and alopecia—where chunks anywhere from the size of a dime to a quarter fall away from the scalp. It's something I experienced myself, and it's what inspired me to explore natural solutions. I tried conventional medical techniques—injections, topicals, and steroids. Nothing worked, and there were side effects."
Most women will experience hair loss at some point in their lives, explains Yuko. There are so many factors that can contribute. However, the shame and stigma connected to women's hair loss mean surprisingly few articles and resources are dedicated to the topic. 
"The most common cause of baldness is the same as men, androgenetic alopecia--female (or male) pattern hair baldness."
Female pattern baldness manifests slightly differently than male pattern baldness, where thinning becomes noticeable around the temples, and the hairline recedes. For women, female pattern baldness most often occurs and becomes apparent around the parting.
"It's normal for people to lose about 50-100 hairs daily," says Yuko. "Normal shedding happens all over the scalp. When dealing with hair loss, it tends to concentrate in specific areas—there's a noticeable thinning."
When looking at typical female pattern baldness, what happens is there is a genetically predisposed change to the anagen or growth stage of the hair's life cycle that takes place. The anagen phase gets shorter—the shedding stage gets longer. The hair sheds faster than it grows.
Clinicians use the Ludwig Classification to describe Female Hair Loss: 
Type I - minimal thinning, easy to camouflage with hair styling techniques. 
Type II - decreased volume and noticeable widening of the mid-line part. 
Type III - diffuse thinning, with a noticeable see-through appearance of the scalp.
"More than 50% of women will experience some form of female hair loss, and the likelihood increases as we age. Menopause and fluctuating hormones trigger stress within the body. Stress is responsible for so many things—it causes inflammation, which is responsible for many imbalances. It can impact our hair, skin, mental health, physical health—everything."
Hair loss also triggers a process called follicular miniaturization. Essentially, as strands take longer to grow back, our follicles shrink. When this happens, thicker, darker hairs are replaced with thinner, non-pigmented strands called vellus. There is a loss of both colour and density, which makes the effects even more pronounced.
"We know hair health is ultimately related to the health of our scalp and overall health," says Yuko. "When we notice hair loss, it's important to avoid stressing the follicles—avoid tight hairstyles, use wide-toothed combs, and stop harsh, chemical-based treatments like colours and perms. There are so many everyday factors that can contribute. For example, cotton pillowcases can draw out excess moisture, depleting the scalp of vital oils. Even showering can have an impact—very hot water is drying, and hard water can cause a buildup, which means some people need to install a shower filter.
To encourage growth and density, Yuko recommends natural products that stimulate and extend the androgen phase of the hair cycles. "As someone who believes in a holistic full-body approach, I work with natural products to address my clients' challenges as much as possible. I recently discovered a herb called he shou wu, which is incredible for hair, adds Yuko, who was pleasantly surprised to learn it's a feature ingredient in Luna Nectar's Atmosphere Hair Density and Scalp Serum.
"Stimulating the scalp is important," says Yuko. Plant-based oils and scalp massage can be incredibly beneficial to women suffering from hair loss. Try to understand all the factors impacting hair—it's not just one thing. Read ingredients lists to understand what you're putting on your body—because it all ultimately ends up in your body. I encourage people to try a holistic, natural approach—it's something I believe in deeply." 
--
Standing Up Against the Stigma at Luna Nectar
Thank you, Yuko, for taking time out of your day to discuss hair health with us. As a team involved in ongoing research around hair science, we've successfully pioneered clean, adaptogen-based formulations made with clinically proven plant-based ingredients that help the body manage stress for improved hair health and density.
To help the over 81% of sufferers who have felt the stigma of female hair loss, we're transforming our content hubs into a platform for frank discussion. Over the next few months, you'll see more posts, information, and live events dedicated to female hair loss. If you have questions or want to help us destigmatize the topic, we'd love to hear your story. Take a video of yourself talking about your hair loss experience. Tag us on Insta or tiktok @lunanectar. 
Help us break the silence and start a conversation around female hair loss because any topic affecting the majority of women belongs in the mainstream.