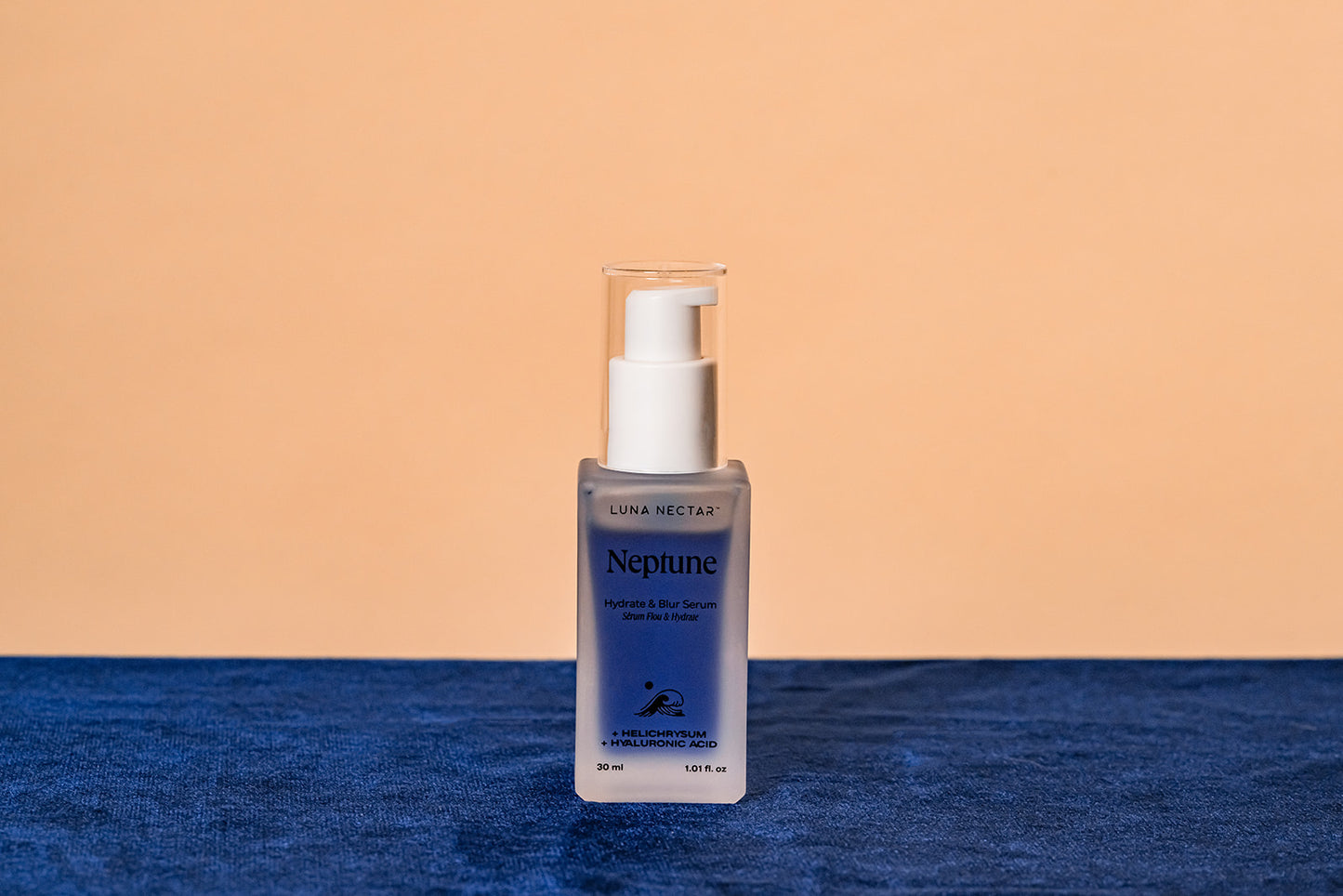 Step into the fast lane to smooth skin. As the feature ingredient in Neptune Hyaluronic Acid Blur Serum, hyaluronic acid (HA) is our go-to for superior hydration and skin health. Plump, dewy skin minimizes the signs of ageing. We combined hyaluronic acid with potent plant-based actives to create a lightweight, ultra-moisturizing skin serum that's become a fan favourite.
When skin doesn't have enough moisture, it becomes dry, rough, and flaky. Beyond aesthetics, dry skin can be uncomfortable—even dangerous. When there isn't enough moisture to keep the skin barrier intact, it becomes more vulnerable to environmental factors. It's easier for bacteria to enter the skin, potentially leading to infection.
Hyaluronic acid molecules work to cushion and lubricate the skin—they're naturally found in the body's connective tissues. As the body's stores decline with age, topicals can provide a quick fix. The hyaluronic acid in Neptune binds water molecules to increase the skin's moisture content. A single HA molecule can absorb more than 1000 times its weight in water. Neptune is intentionally formulated with a 1% high-molecular-weight hyaluronic acid that gets moisture right where needed. Our decision to use a high weigh hyaluronic acid is supported by science. Evidence suggests that low-molecular weights can be a "stimulus to inflammation and scarring."
To create skincare that works for everyone, we combined 1% hyaluronic acid, a safe and optimal amount, with an elegant trio of plant-based actives that work synergistically to protect the skin and diminish the signs of ageing: helichrysum to reduce irritation, butterfly pea to illuminate, and green tea to soothe and reinforce the barrier.
HA is generally safe for all skin types. Neptune Hyaluronic Acid Blur Serum is a model for skinimalism, created around the belief that less is more—and that caring for skin requires a few good products with quality ingredients to buffer health and wellness rather than elaborate skincare rituals.
Formulated with pure, plant-based actives, Neptune Hyaluronic Acid Blur Serum attracts and locks moisture into the skin, healing and reinforcing your natural skin barrier. Use it to amplify the results of your skincare. Prep skin under make-up or go au-natural to enjoy a radiant glass skin finish that's 100% vegan, ethical, and cruelty-free. Always.