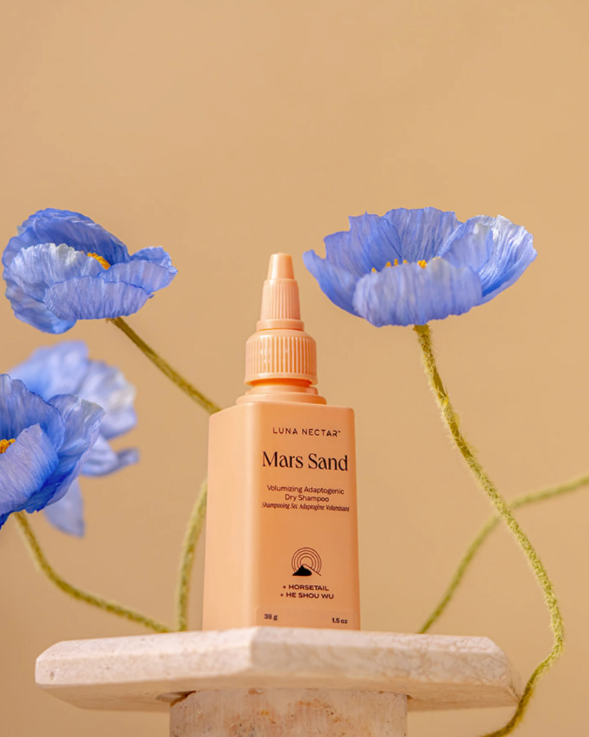 Dry Shampoo: Your Questions, Answered
Dry shampoo has been on the market for years, promoting itself as the solution to banishing greasy hair without needing to wash it. It's perfect for travelling, morning workouts when you don't have time to shower, using in-between washes, and virtually any situation where you simply don't have the time to wash your hair and need a quick freshen up. Let Luna Nectar answer some common questions about dry shampoo as well as provide you with the best dry shampoo solution to keeping your hair healthy and fresh in between washes.
How Do You Use Dry Shampoo?
The goal of dry shampoo is to soak up some of the excess sebum (oil), sweat, and dirt that gets built up on your scalp and hair between washes. Dry shampoo will come in either an aerosol spray or powder form. Applying the dry shampoo will involve either spraying a small amount onto your roots from about 6 inches from the crown of your head, or shaking a small amount of powder onto your roots. Massage the product into your hair using your fingers or comb through. Then, style your hair as usual or blast some cold air from a blow dryer on it for some added volume and bounce.
How Often Can You Use Dry Shampoo?
Think of dry shampoo as more of a hair freshener than a hair cleaner. You shouldn't use it more than two days in a row to avoid drying out your hair and scalp. Once or twice a week is a pretty good baseline rule for how often you can use dry shampoo, or alternate using it between washes. Using it too many days in a row can clog the pores on your head, causing pimples or a rash, as well as dry out your scalp and build up residue. It's important to give your scalp and roots a good scrub with water and regular shampoo to keep your hair and scalp from drying out.
What is the Best Dry Shampoo to Use?
Luckily, there's a solution to still being able to enjoy the convenience of dry shampoo without destroying your hair: Mars Sand Volumizing Adaptogenic Dry Shampoo from Luna Nectar. Our dry shampoo is a powder so there's no need to worry about aerosols and the environment when you want to freshen up your locks. Mars Sand is also sandy-rose-tinted to blend into any hair colour, no more starchy white residue! It feels silky when you're massaging it into your hair, not sticky, and is packed with nutrients to boost volume and add freshness. Even better? It leaves your hair smelling like a combination of citrus and mint to add to that boost of freshness it's giving you. 
Our Mars Sand's star ingredients include He Shou Wu which has been proven to stimulate blood circulation and melanin production–improving hair growth rate and nourishment. There's also Horsetail which is silica-rich to add sheen and strengthen hair shafts to promote healthy hair. Simply put, Mars Sand is one of the best dry shampoo products on the market today.
The Luna Nectar Advantage
Of course, like all dry shampoos, you want to be sure to wash your hair between dry shampoo uses and use other hair products to promote hair health. Our recommendation that pairs perfectly with Mars Sand is Obsidian Volumizing & Anti-Pollution Scalp Scrub which helps rid your hair and scalp of impurities and leaves your scalp nourished. It's also perfect to help prevent or treat any damage caused from using drugstore dry shampoos. 
Luna Nectar is your source for all-natural, vegan, eco-conscious hair products that leave your hair healthy while boosting shine and volume. We are leaders in the clean beauty hair industry and can help you get healthy, luscious locks, naturally. Give us a try, we guarantee you'll fall in love.