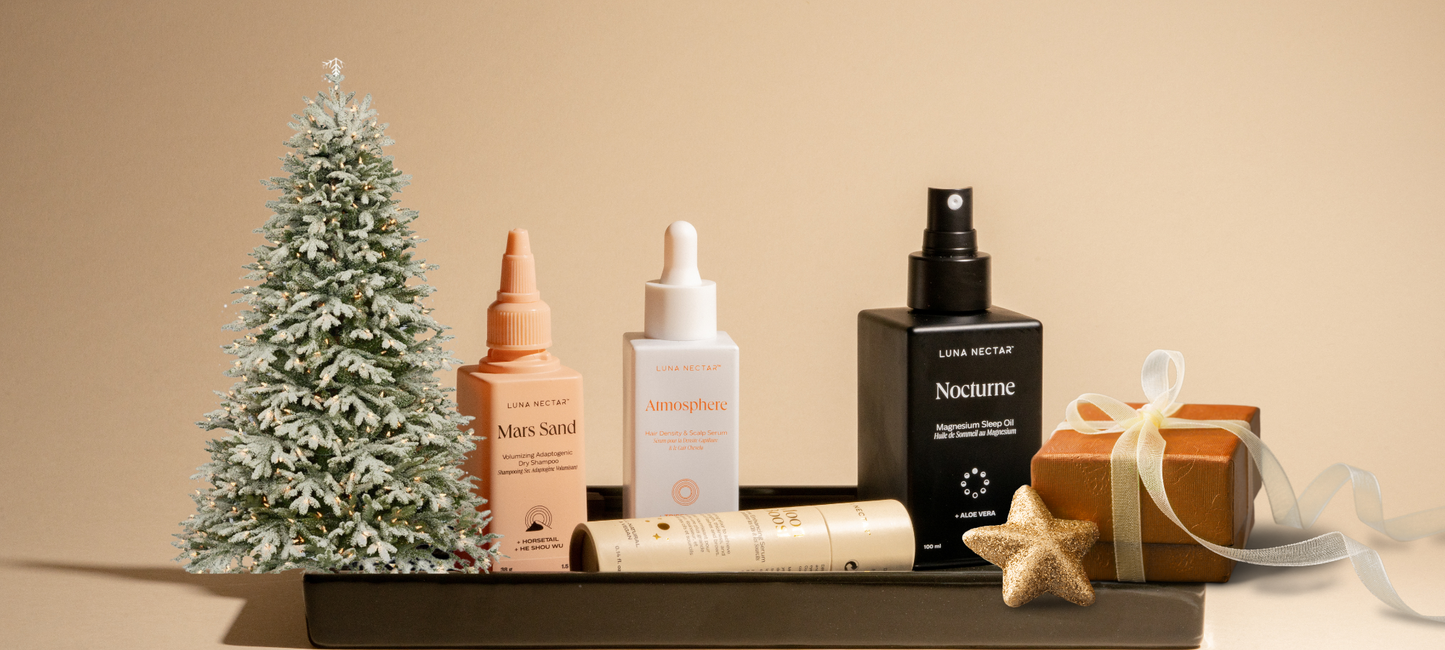 With the holidays quickly approaching, we've got that all-natural, vegan, cruelty-free, dermatologist-tested and trichologist-approved skincare and haircare designed to achieve the bliss that your brain has been craving. After such a wild year, you and your friends and family deserve it! Enjoy our holiday shopping guide from the Luna Nectar Universe!
1. Aphrodite Hair Density Kit
Achieve denser, fuller-looking lashes, brows, and hair with this
Aphrodite Hair Density gift set
! Contains:
Moon Boost Lash & Brow Enhancing Serum
(recently nominated for 'Best Haircare Innovation Award' at BeautyMatter's Next Awards) and our
Atmosphere Hair Density & Scalp Serum
. Infused with a natural peptide complex, clinical actives, and adaptogens, these hair-boosting goodies give you all-year-round protection and nourishment for thicker tresses in just 90 days.
2. Atmosphere Hair Density Serum 3-Pack

With Atmosphere Hair Density Serum, our community has reported seeing a difference in 2 - 3 weeks, and full results in 90 days. We've bundled this in an Atmosphere 3-Pack gift set with savings of $16!


We use a natural peptide complex that is a natural version of minoxidil and finasteride. The red clover in our peptide complex helps prolong the growth phase of the hair cycle and increase the number of growth factors in the dermal papilla of the hair follicle, while the peptides reduce free radicals and promotes growth of proteins required for hair density.


Combined with other hair-boosting adaptogens in our formula such as He Shou Wu, Skullcap, Angelica, Gotu Kola, and Horsetail; and moisturizing Aloe, clinical actives Zinc, Arginine, Niacinamide, and root-boosting ingredients Amaranth and Caffeine; this is a potent cocktail to help introduce and lock in moisture at the roots, improve scalp circulation, strengthen hair follicles, and reduce scalp inflammation.
3. Skin Concentrate Trio Kit

Experience plant-based nourishment for your skin. This Skin Concentrate Trio gift set contains Futurize Retinol Alternative Boosting Serum, Neptune Blur & Hydrate Hyaluronic Acid Serum, and Sphinx Body Experience Oil. Combat aging skin, smooth pores, and bathe in a sensual body oil, all-in-one. Perfect for all skin types, including sensitive skin, and those with roseacea or eczema.
4. Self Care Experience Kit

Discover ultimate self care with our Self Care Experience gift set. Give your loved ones the gift of relaxation with our Nocturne Magnesium Sleep Oil (amazing for helping with sleep, relaxation, muscle recovery, or cramps), and the Sphinx Body Experience Oil, formulated to help with roseacea and eczema, and comes in a scent reminiscent of a fresh, classy citrus mansion.
5. BetterTresses Hair Density & Protection Kit

BetterTresses Hair Density & Protection Kit is for your everyday hair protection, while boosting the roots and shine of your hair. This gift set comes with Atmosphere Hair Density & Scalp Serum, and Renaissance Nourishing Hair Oil, which is made of a blend of 7 powerhouse Ayurvedic oils designed to improve scalp circulation and reduce free radicals. Scalp microbiome at its finest, for the optimal environment for hair density.