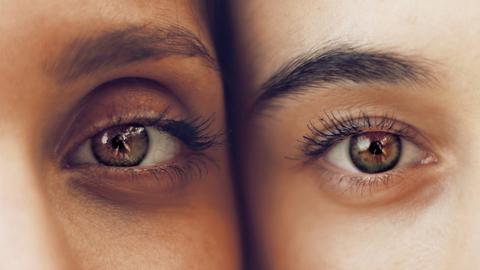 Lash serum growing area of interest. Everywhere I turn, there are a million-and-one beautiful, creamy, magical, botanical (clean and natural) ways to protect my skin. So many choices, so little time to test each one!
Clean, holistic, vegan, and natural skincare is a huge staple in the beauty world and rightly so.
But with so much emphasis on skincare, other parts of the face falls to the wayside, such as our eyelashes or eyebrows. Though a small feature of your face, they are significant in preserving a youthful appearance and protection of the eyes.
Lashes. The very word evokes a romanticized, feline, fluttering-in-the-wind type of supercut. Throughout the decades, we've always coveted long lashes and full brows. However, we deal with them as an afterthought – stick some eyelash extensions on it, microblade our eyebrows, tattoo; unaware that we have natural tools to protect, grow and nourish our lashes to generate a more natural and as effective of a result.
It all comes down to a ritual that we can practice as part of a healthy skincare routine. So many times we shortchange ourselves, seeing the convenience in a short-term solution instead of the long-term benefits.
We've invested in hundreds, if not thousands of dollars and dodged the natural boost solutions as long as we could – false lashes, lash extensions, and most recently hormone-infused chemical lash serums that are meant for glaucoma.
Scientists discovered that the side effect of glaucoma medication grew lashes and bottled the compound up for cosmetic use, however the long-term side effects come at a cost of your health and damage to the eyes and eyelids.
We especially shouldn't be experimenting with dangerous substances around your eyes where it is delicate. And my sister and her friends all used these compounds starting from a very young age.
The truth is, the lack of strict rules around the cosmetics industry and even of self-claimed natural products allows companies to advertise in a misleading manner. They are able to use words that infer that they are all natural and non-toxic, but when you take a closer look and take the time to research the ingredients on the box, it is a different story, with the 'natural' ingredients buried amongst a sea of toxic preservatives and fillers.
And this brings us to natural, clean beauty. Internally, our collective consciousness shifted. We yearn to transcend back to our roots, the pendulum swinging back to its rightful place. We strive to cut out the noise, and listen to our intuition once again.
Not only are today's holistic clean beauty products, including a new generation of lash serums, made without toxic and unnecessary ingredients, but emphasis is placed on sourcing the ingredients ethically, and never testing on animals. We want to help women continue to contribute to their well-being, and start young women early in rituals that will bring confidence in embracing natural beauty. This is what I envisioned Luna Nectar to be and our amazing team plans to hold ourselves to that.
-With Love,
Mia