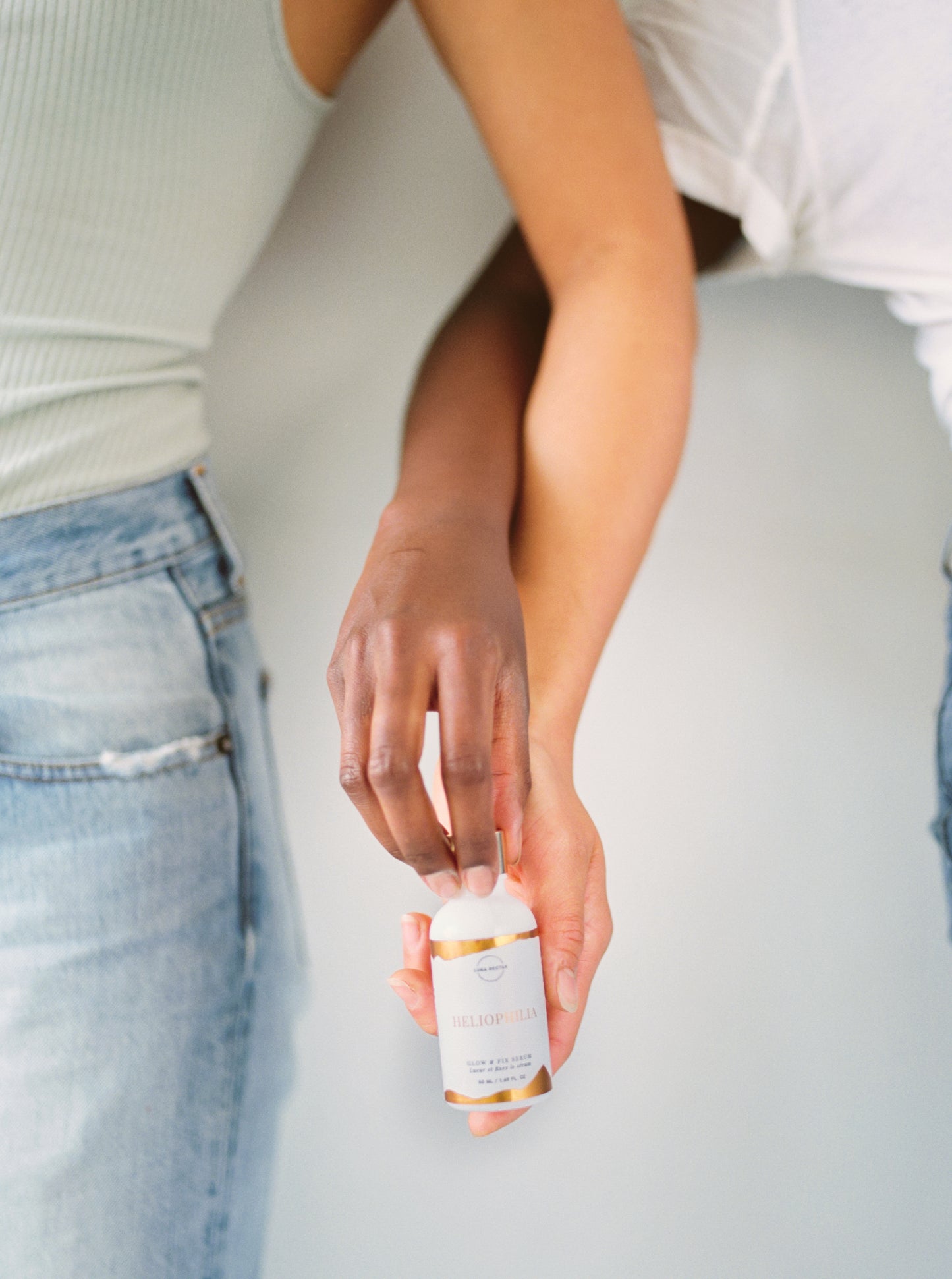 Oils are beneficial for every skin type and a perfect swap for your usual moisturizer - they help quench dry skin, balance out combination skin, and yes, even regulate oily skin. But with the huge catalogue of oils available at our fingertips and the new trendy 'super oil' popping up every few weeks touted by clean beauty experts, what is truly the best way to determine which oils fit your skin type? 
The comedogenic scale is a popular method to determine which oils fit for each skin type - as it goes, acneic skin should avoid oils that are high on the rating scale as there is a higher rate of clogging pores.
However, lately there is debate as to whether this is a reliable method - each individual's skin is highly unique, as everyone has their own skin chemistry. An ingredient that is rated a 0 (not comedogenic at all) on the scale could alchemize with a person's unique skin chemistry and become comedogenic for that person. Even human sebum is naturally comedogenic!
After the decline of animal testing, comedogenic action was tested on humans. Previous testing on rabbit ears was shown to be non-reliable, as rabbit ears are more sensitive than human skin. Even human testing show discrepancies, as tests were performed on the skin on backs, which differs from facial skin. The source of where the oil comes from also affects the rating, and even when oils are mixed together, the chemistry of the combined oils change. A normally noncomedogenic oil can turn comedogenic and vice versa.
What is a more reliable way to determine which oils fit your skin type?
Linoleic acid (omega-6, which your body does not naturally produce) vs. Oleic acid (omega-9, a monounsaturated fatty acid). Linoleic acid is lightweight and thinner than oleic acid, which means it is able to be absorbed by the skin more easily. Because individuals with acneic skin generally have lower levels of linoleic versus oleic acid in their sebum, linoleic acid can help address acne. This means that oils with higher percentages of linoleic acid are beneficial in controlling acne.
Oleic acid, on the other hand, is thicker and feels rich, benefitting those with dry or aging skin.
Here are some examples of oils suitable for each skin type:
For acne prone, oily, and sensitive skin – high linoleic acid oils
Rosehip – 44% linoleic, 13.9% oleic
Evening primrose – 72% linoleic, 8.4% oleic
Safflower – 68-85% linoleic, 8-30% oleic
Hemp seed – 52% linoleic, 10% oleic
For dry and mature skin types - high oleic acid oils
Sunflower - 70-88%, 3-20% linoleic
Argan - 43-49% oleic, 29-36% linoleic
Sea buckthorn - 28.4% oleic, 17.84% linoleic                              
Marula - 70-78% oleic, 4-7% linoleic
For combination skin - balanced oils (almost equal amounts of linoleic - oleic acids)
Argan - also falls in this category
Baobab - 30-40% oleic, 24-34% linoleic
Tamanu - 34-41% oleic, 29-38% linoleic


With the linoleic and oleic acid balance in mind, we've formulated Heliophilia Glow and Fix serum to cater to all skin types.
The serum starts out rich with our specialized percentage of oleic acid oils, absorbs very quickly due to our combination of linoleic acid-rich oils, and leaves a dewy, light finish to the skin.
Those with dry skin and rosacea are finding it helps heal and moisturize, addressing the skin barrier, and those with combination skin finds that Heliophilia helps balance their skin. For those with oily skin, they find that the quick absorption does not aggravate or increase sebum production, and also addresses pimples. Some have noted that the serum helped control skin during hormonal breakouts as well. Clean, vegan and natural skincare for the win!
REFERENCES:
J Fulton, Comedogenicity and irritancy of commonly used ingredients in skin care products, J Soc Cosmet Chem 40 321–33 (1989)
J Fulton, S Bradley, et. al., Non-comedogenic cosmetics, Cutis 17 344–51 (1976)
Downing DT, et.al., Essential fatty acids and acne. J Am Acad Dermatol.  Feb;14(2 Pt 1):221-5. (1986)